Basic Theory Test, Final Theory Test Latest Development @ sgdriving
1. New UI and More Responsive Site
( 01 May 21 )
You probably have noticed that there is an update recently on the website, yes it is.

A new user interface is just deployed, a major update to the look and feel, more focused on usability and easier navigation, it is responsive and mobile friendly as before, it automatically adjust to better fit with your screen size giving it a mobile phone, tablet or conventional computer screen.

some minor bug fix, and updates to the question bank as well, such as penalty for drink driving, bus lane hours, validity of provisional driving license etc.
2. BTT & FTT Mobile Apps Ready For Download
( 11 May 16 )
iPhone, iPad mobile apps for Basic Theory Test and Final Theory Test are available at IOS App Store now, download them and practice wherever you go.

Basic Theory Test Singapore ( BTT Test SG ) Mobile App

Final Theory Test Singapore ( FTT Test SG ) Mobile App
3. Mobile Friendly SG Final/Basic Theory Test
( 20 Mar 15 )
Enhancement has just been made for this online SG BTT/FTT test system. When you are on the go with a smaller screen, a mobile/tablet friendly version is right here for you, it automatically adapts to your device now, check it out at https://www.sgdriving.net.
Learning and practicing of
Singapore driving basic theory test
and final theory test anywhere anytime at your convenience.
Keep your feedback coming in and let us know what do you think of this new feature.
4. Missed or Flagged BTT/FTT Questions Could be Saved
( 23 Sep 13 )
A new version of the
BTT/FTT simulation test
engine has just been rolled out!
At the end of each simulation test, you will be able to review those mistakes you have made, correct answers will be shown, and if you have signed in, your mistakes will be automatically saved for 30 days.
The same applies to the final and basic practice test engine, your missed or flagged questions will be saved.
Now you could easily review and learn from your mistakes without worrying about losing track of them, sure you will have more confidence to attend the actual TP basic and final driving theory test.
5. Learn Final and Basic Driving Theory via Flashcards
( 03 Jul 12 )
Need to learn those different traffic signs, signals and road marks?
Want to have a quick review just before your TP Final or Basic theory Test?
You could just do that with the newly introduced
FTT/BTT theory study flashcards
.
Give it a try and you will never regret, final and basic driving theory flashcards can be accessed through the top navigation menu.
6. Flag A BTT/FTT Question and Review It Later
( 14 Jun 12 )
While practicing the basic theory test or final theory test, if you are not too sure about the answer and want to review the question at a later time, you may flag It by ticking a check box right beside the question, it will be saved for you in the member zone, and you can always come back to look at it later.
Flag a question and review it later, this new feature has just been introduced to both the BTT and FTT test engines.

7. Questions Explained For Basic Theory Test and Final Theory Test
( 02 Dec 10 )
Explanation has been added to some of the BTT / FTT questions, and we hope it will help you to quickly grasp and learn those basic /final driving theory while doing practice online.

We try to keep them simple, sharp and to the point, however omissions could still exist, if you noticed any irrelevant points or mistakes, do bring them up.
8. Practice FTT / BTT By Topics
( 09 Jan 10 )
You may choose to practice the basic theory test (BTT) or final theory test (FTT) by topics now, questions are grouped with relevance, which make it easier for you to tackle one topic at a time, track the progress and manage your own learning pace.
We are dedicated to make the journey of learning driving test theory in SG as easy as possible.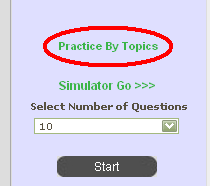 9. Save Driving Test Session and Resume Practice Later
( 27 Dec 09 )
A new feature has just been introduced to this online basic / final driving theory test practice system.
You may save a test session at any time when you are in the middle of the practice, especially when you do not have the time to finish too many questions at one go.
Once a basic theory test session or final theory test session is saved, you may come back, resume it and continue the practice from where you have left.

11. Simulation Engine Enhanced for Basic Theory Test and Final Theory Test
( 01 Nov 08 )
At end of each BTT / FTT simulation test, now you can have a more detailed report. It will show you how you have performed in each driving knowledge area, and which are the theory topics you may need to put some more efforts in.
12. Updates On the Way for SG Driving Theory Tests
( 27 Aug 08 )
New features and enhancement will be introduced to the BTT/FTT practice test system soon, together with a subscription fee adjustment.
a more detailed report will be presented at end of each basic and final driving simulation test.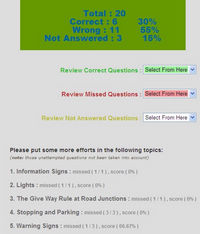 13. Higher Value for BTT / FTT Questions Contributed
( 22 Aug 08 )
You will be paid higher for each question you create and contribute to the system.
the rate is from 0.50$ to 1.50$ per question now.
once your balance reaches 20.00$ and confirmed.
Your earnings will either be issued through a cheque or directly transferred to your Singapore bank account.
BTT and FTT Test engines are improved.
when you are practicing,
you can view and learn from other people's notes or remarks;
you can leave your own comments as well.
15. Account Activation Email Re-send
( 31 Jan 08 )
If you did not receive the account activation email after signing up.
using this
account activation
to request for a re-send.
16. Frequently Asked Questions (FAQs) for the Driving Theory Tests in SG
( 14 Dec 07 )
FAQ
for the Basic Theory Test and Final Theory Test in SG is up!
if your favorite question is not there yet, do drop us a message.
17. Driving Test System Enhancement on the Way
( 09 Oct 07 )
we are planning to add in more questions to our basic theory test and final theory test (btt/ftt) database and make it more user friendly.

if you got any idea or suggestion in your mind, do drop us email and that will be very much appreciated.

do come back and check it out!
18. More Questions in Singapore BTT & FTT
( 08 Oct 07 )
More questions have been added to our SG driving Basic Theory Test, Final Theory Test database (BTT/FTT). We have around 150 questions for both of these two tests now.

Thanks a lot for your hard-working, Dear contributors!

19. Welcome members
( 06 Oct 07 )
A new module has just been integrated to our system, to show our greeting and appreciation to those who want to explore more with sgdriving.net - a web portal dedicated for online driving theory test in Singapore, your ultimate choice to prepare for the BTT and FTT.

20. My Simulation Test History for BTT and FTT
( 18 Sep 07 )
Member zone has been enhanced, now you can view the history of your simulation test for your basic theory test (BTT) and
final theory test (FTT)
.

21. Update of BTT / FTT Exam Simulator Result
( 26 Aug 07 )
At the end of simulation test, now you can view the statistics of how well did you do, basically the percentage of your correct/wrong and not answered questions for your Basic Theory Test (BTT) and Final Theory Test (FTT).
22. Earn some pocket $$ by contributing BTT/FTT driving test questions
( 12 Jul 07 )
You will be paid for each BTT/FTT question you create and contribute to the system.
rate varies from 0.20$ to 0.80$ per question.
once your balance reaches 10.00$, upon your request
we will either issue you a cheque or directly transfer the balance to your Singapore bank account.

Terms:
It must be original and not copied from those available books or any other sources;
It must only be set based on the official theory handbook.
Piracy is a crime, and you must make sure you never cross the line.

3 simple steps to contribute and start to earn!
Step 1: Add question.
Step 2: View contribution report.
Step 3: Finally check the review status and $$ earned.

It can be done anytime, anywhere, as long as you have access to the internet.
Login and at the member zone, look for My Contribution & Earned $$
(note: you need to register as a member, in order to add questions to our Basic Theory Test (BTT), Final Theory Test (FTT) and Riding Theory Test (RTT) question bank)


23. Basic and Final Driving Theory Simulator is Up
( 07 Jul 07 )
07/07/07 is a very special day,
on this very special day,
we also bring you something special -THE BTT & FTT EXAM SIMULATOR
It is up and running, do check it out and send us your feedback!
Note: only basic theory test (btt) and final theory test (ftt) simulation are available at the moment.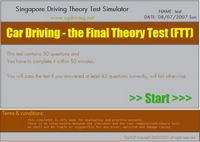 24. FTT / BTT Exam Simulator Coming Soon
( 27 Jun 07 )
Want to have a taste of how the actual traffic police Basic and Final driving theory test likes?
Yes, we are working on it.
Following is the screen shot; we plan to bring you a TP basic / final theory test simulator in coming July.

25. Feedback on SG Basic Driving Theory and Final Driving Theory
( 26 Jun 07 )
When you are practicing with the SG BTT / FTT test questions, do give your feedback and help to report any errors.
Together we create the best online driving basic/final/riding theory learning website in Singapore.

26. More Questions for Singapore Basic and Final Driving Tests
( 16 Jun 07 )
More questions have been added to the database for Singapore basic driving theory and advance/final driving theory.

27. Driving Games are Available
( 16 Jun 07 )
Having some fun, don't get yourself too tired when preparing for your coming basic or final theory tests.
Drivers Ed
Drive Like a Kennedy